RE: Atiku to Shettima: Your incurable speech deficiency is so severe that Nigerians hardly understand what you say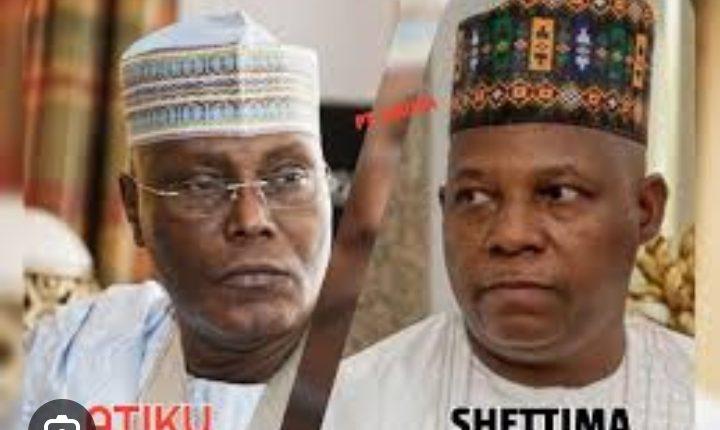 RE: Atiku to Shettima: Your incurable speech deficiency is so severe that Nigerians hardly understand what you say.
By: James Bwala
It's common to misunderstand genius. Probably for this and other reasons, vice president Kashim Shettima's statement on Atiku was missed by Phrank Shuibu, Atiku's Special Assistant on Public Communication. He would have understood the lengthy history of jokes between the Kanuris and Fulanis if he had paid attention to what the vice president had written on a letter. I'll be kind to Phrank Shuibu so as not to further confuse him because he was unable to understand the phrases of the vice president's song.
The time for politics has passed; now it's time to focus on government, according to Vice President Kashim Shettima. If it is also their main aim and the reason the former vice president was stepping out in chains of attempts to run the country, I believe the Atiku camp should comprehend that and move on to what is necessary in forming the desire to improve Nigeria. I think there is hope for a tree, even if it is cut down at the smell of water, since it might grow back. About four years from now, in 2027, Atiku will try his luck once more. For the time being, Nigerians will be proud of him if he shows statemanship and joins the train for Nigeria's progress rather than focusing on a blatant defeat.
Unless there are specific political overtones, it is dangerous to swiftly and unnecessarily attack Kashim Shettima for his jokes. Former vice president Atiku had refrained from disclosing his animosity toward Shettima for thwarting his desire to rule at this time. I know that during the political play, certain individuals understood that it was an opportunity for the northeast to produce the president and wanted Kashim Shettima to shelve his desire and throw his weight behind some regional forces, which Atiku would appreciate very much. But Kashim Shettima's vow to move power to the southwest was the bitter taste of the political game that left Atiku's camp standing on an unequal platform.
The former vice president was required to speak at a global conference on Wednesday to discuss the tribunal's decision. Since we also know that he has a very quick tongue, if he were to go down in history, he would have connected the jokes to his final duel with Kashim Shettima, who prevented him from realizing his dream of governing Nigeria. If Atiku Abubakar is worried about retiring to Fombina to raise goats, he might act quickly to get a visa back to Dubai and wait until 2027 to decide whether to live there permanently or choose Kashim Shettima's options, which would give him the chance to play games and pass on to his grandchildren the lessons he has learned from losing as a lifelong gamer.
The former vice president in Shuibu's blood-dripping hands with tears dropping from his ballpoint pen eyes should know that if there is one achievement that over 200 million Nigerians are celebrating today, it is Kashim Shettima. As governor of Borno State, to which Atiku is making reference, Shettima has put both infrastructure and human capital to work more than any governor in his time, looking at the pressure and security challenges in the state even when the center has distanced itself from his government, which brought about his much closerness with Tinubu. It was also for his dream of a better Borno that Kashim Shettima, despite the huge records of personalities, was determined enough to pick a record-breaker like Professor Babagana Umara Zulum, which Nigerians are also celebrating today.
Perhaps Phrank Shuibu did not have the chance to travel to Maiduguri to personally evaluate the initiatives taken by Kashim Shettima while serving as governor and the individuals he elevated to political prominence. I advise him to visit Borno with the open attitude of a tourist to observe Kashim Shettima's ability to work wonders in a devastated and forlorn environment. Records will demonstrate to him that Kashim Shettima was successful as a governor and that the Tinubu-Shettima presidency is still in place in Nigeria today.
READ ALSO: https://newsng.ng/nigerias-vp-kashim-shettima-in-100-days/
Again, I suppose Kashim Shettima's circus act at the NBA conference, in which he confuses the knowledge in Atiku's camp with the unexpected outing, is still upsetting, but that is the nature of the game, and they must deal with it. Atiku Abubakar lost at the Tribunal once more, so I believe he should be choosing whether to retire to Fombina as Shettima advised or prefer Dubai and hope for better success in 2027. I would love to advise him to choose Shettima's suggestion.
Shaibu said it had become Shettima's stock in trade to deride others because he had nothing worthwhile to say about himself or his principal, Bola Tinubu, whose three months in office have only worsened poverty and inflation.' But I asked Mr. Phrank, Is he still sleeping? Much had happened in the last 100 days, and I believe his boss gave credit to the new administration. Some of the best approaches seen in positioning the country in strategy and planning have been witnessed in the ongoing reorganization of the Nigerian states. For the first time in many years, serious work is ongoing on the Port Harcourt refinery; short-term palliatives are given in preparation for long-term successes; diplomatic relationships are being built to bring in investors; and for the first time in many years, the atmosphere of peace is taking hold and the glory of Nigeria among the international community is returning. There are a few to mention, and these took place in the last 100 days.
I'll quickly respond to Phrank Shuibu's arguments regarding the Chibok girls' kidnapping and other sentiments by saying that it's possible he was misinformed about events or misguided about the situation at the time. During those times, there are between 30 and 37 media correspondents working in Maiduguri as representatives of different national newspapers. I happened to be one of them, proudly exclaiming We know the stories and know what is real and what is fiction. But those couch writers who create fiction based on the suffering and difficulties the residents of Borno State suffered ought to ask for pardon. Kashim Shettima, the governor of Borno State, has no authority over the military; those in charge of the military at the time are aware of what they did; and Kashim Shettima was not given the chance to speak because everyone is aware that if he did, heads would roll. But I'll get Shuibu to a meeting on live television if he is available and explain this to him in good time.
Let me conclude by requesting that Mr. Phrank review the historical footage that NTA has available, which shows how sophisticated the vice president's office has become over the course of eight (8) years under Atiku Abubakar and 100 days under Kashim Shettima. I believe that men of honor may be judged by their earliest actions; therefore, if in eight years honor is disgraced, I will not help but laugh at Atiku and his scriptwriter's assertion that the baby, not the eight-year-old boy, spilled the milk on the table.
Let me quote Kashim Shettima: "If you stop and hurl stones at every dog that barks, you might not get there in time. Normally, I wouldn't have responded to Mr. Phrank Shuibu, but occasionally, we need to rectify certain ignorance in people who have become numb from political defeat.
RE: Atiku to Shettima: Your incurable speech deficiency is so severe that Nigerians hardly understand what you say