Borno: PCC Federal Commissioner receives 2023 humanitarian award
By: Our Reporter
The Institute for Humanitarian Studies and Social Development (IHSD),  in partnership with the United Nations Institute for Training and Research (UNITAR and the National Youth Service Corps (NYSC),  has awarded Borno State Federal Commissioner for Public Complaints Commission, Alhaji Yusuf Adamu, for his outstanding contributions in promoting the humanitarian value system in Nigeria.
Alhaji Yusuf Adamu received the award during commemoration of the 2023 humanitarian lecture and international day for disaster reduction at the NYSC headquarters auditorium, Yakub Gowon House, Maitama, Abuja.
Speaking during the award ceremony, the registrar of the institute, Amb. Prince Francis Origa, PhD, said that the institute is a dual-purpose and multidimensional professional institution that provides both humanitarian education and other humanitarian interventions, including coaching and mentorship, as well as community development services.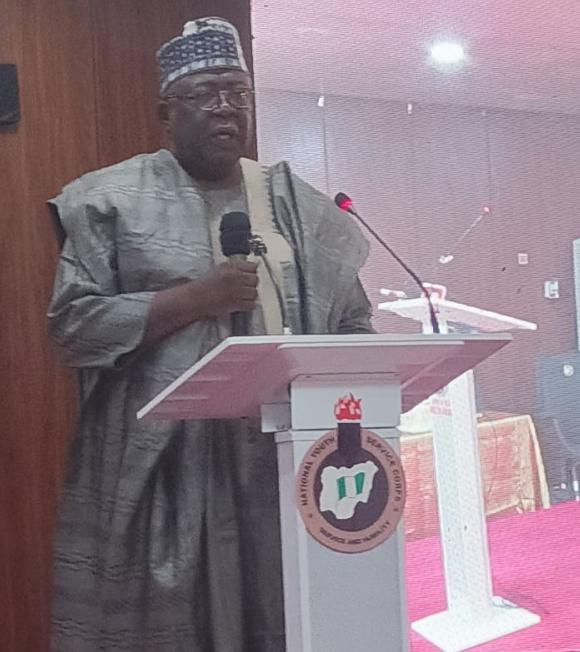 "The 2023, 11th edition, is being hosted by the National Youth Service Corps, NYSC, our proud partner, as a medium to commemorate the International Day for Disaster Reduction. In this year's event, we will be examining the theme:'Reducing the effect and impact of disaster through a multisectoral approach and humanitarian stakeholder engagement.' in addition to other highlights of this year's event." He said, adding, "IHSD would be commemorating 13 years of official existence and impact-making."
Others who received the 2023 Institute for Humanitarian Studies awards are: the former governor of Kaduna State, Dr. Muktari Ramalan Yero, Chairman/CEO Visionedia Services, Umar Faroud Musa, Managing Director, Vision Media Services; Abubakar Kabir Namatazu, a philanthropist and businessman; Obiagha Alex Ubaka; Pastor Benjamin Ubido, a public health professional; Dr. Dolly Aminah Yahaya, a media icon; Mrs. Adaora Onyechere; and the Director General of the NYSC, Brigadier General YD Ahmed, among others.
Adamu, who spoke on behalf of the recipients, says that he understands the challenges of humanitarian activities, adding that he has seen the need to extend helping hands to vulnerable individuals in his small way and act on the do no harm principles.
READ ALSO: https://newsng.ng/police-witness-tells-iip-sars-how-peter-ekwealor-slumped-after-allegedly-confessing-to-killing-asp-akoh-ude/
He explained that by do no harm, many people misunderstand the principles, and when they are faced with a situation where they have no help to give, they allow the victims to continue to suffer, claiming that this is the action that explains the principle of do no harm.
"But I always tell people that instead of allowing people to continue suffering by keeping quiet, it is better to raise awareness by informing others who may help the vulnerable in such situations. That is why our government keeps advocating for help. My governor, Professor Babagana Umara Zulum, is the chief humanitarian person in Borno State, and I hope that this institution will find it fit to award such an individual for his untiring efforts at ensuring he meets the needs of the vulnerable in his state." Adamu said.
Adamu said there is no governor in Nigeria today who is facing enormous humanitarian challenges like Professor Babagana Umara Zulum, stressing that the governor has been up and doing and is seen everywhere in the state to make sure the state comes out of the needs resulting from the age-long conflict of Boko Haram.
Borno: PCC Federal Commissioner receives 2023 humanitarian award