General Buratai And The Imaginative Narratives Of Gololo
By: James Bwala
I will tell you numerous tales about General Tukur Yusuf Buratai if you can show me a past Army Chief whose soldiers respected him at all times. Who is Garus Gololo to opine on the former Army Chief to President Bola Tinubu? His comments seem to be attacking Mr. President's character, to put it bluntly. Or does he believe that President Bola Tinubu is a corrupt, open-minded politician who trades words for small change? Does he believe that the President is ignorant of the history of the nation he currently leads or of all previous military chiefs? I have many questions to ask Garus Gololo, the political opportunist who hides in a hotel in Abuja to peddle his trades for the paymasters, who appear frightened even in their shells whenever they want to break their way into government.
Mr. President, you have come to make a difference in governance. It took him many years to design his strategy and come up with the action plan that we now see manifesting since he took the oath of office on May 29, 2023. This is exactly 30 days, and no Nigerian has come out to dispute the legendary approach the government is putting in place. People like Garus Gololo and his script owners have touted the government in the past with their show businesses, but I think they have reached their peak. I do not know why they are jittery about the former Army Chief and his closeness to the new administration. The man has been very calm and never attacked them, yet they fire from left, right, and center with their jittery hands. That with all their efforts, they could not make an impact by attacking him should be enough for any sensible person to know that, as the saying goes, 'One with God is with the majority.'
The former Army Chief, Lt. General Tukur Yusuf Buratai, remains the constant star in the relationship building between officers and soldiers. He developed himself into a bridge for open communication. His attitude and calm nature have dispelled all these flies of hangers-on who are busy around powers with negative intent. From his (Gololo's) statement, facts can be deduced, according to my math teacher in secondary school, between truth and falsehood.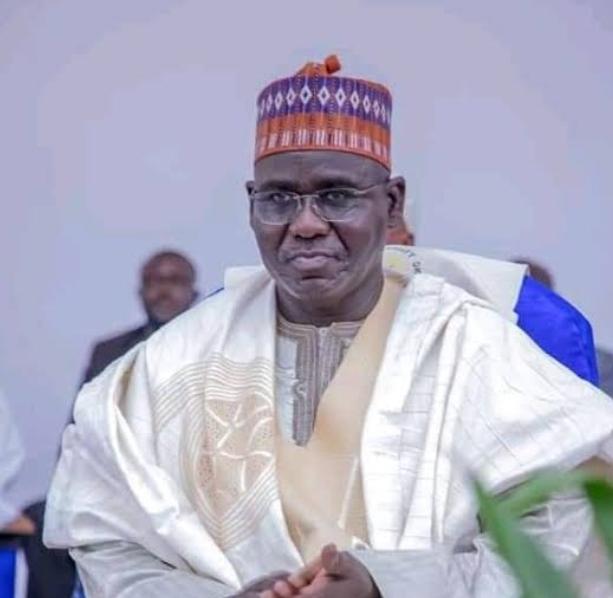 General Tukur Yusuf Buratai (rtd)
He (Gololo) claimed to have visited President Bola Tinubu and saw Buratai sitting and waiting there. It is absurd to claim that a former Army Chief, who has access to every aspect of the nation's security position, will show up in the corridor of power and then be kept waiting, as Gololo intended. He seems to have told the President about the previous Army Chief when they were together. That has the feel of fiction. When Gololo was delivering his narrative to news reporters in Abuja at the time, he appeared to have edged Buratai in front of the President over choices that are personal and only known to the President's heart.
READ ALSO: https://dailypost.ng/2023/06/11/female-nigerian-airforce-officer-commits-suicide-in-lagos/
We have previously revealed their evil plots to harm the former Army Chief. The evidence of Gololo's behind-closed-door encounters with a select few journalists in Abuja comes from the mischief tables, where they concocted, pounded, hatched, and spewed out poisonous snakes. They have tried their hardest to justify their salaries, but we have the upper hand and the cure for everything they do. They can try again, but they will undoubtedly still fail. They will soon realize that they are extending their hands toward a flaming coal in an attempt to shake it.
The illuminating touch of an angel that General Buratai demonstrated has been attested to by rights foundations, organizations, soldiers, and the people. The Kalthum Foundation for Peace (KFP), a registered charity organization with headquarters in Nigeria that has worked with the military in the North-East on counterterrorism and counter-insurgency operations using non-kinetic methods, responded to Gololo by saying that it was shocked by the unguarded remarks made by one Garus Gololo against Lt. General TY Buratai, the former Chief of Army Staff of the Nigerian Army. The Foundation believes that there is no need to recount what Mr. Gololo told the press that he told President Bola Ahmed Tinubu, GCFR, to tarnish the sterling reputation of the former COAS because it is uncertain whether or not he was even given the audience by the President, according to a statement made to newsmen by the Foundation's Chairperson and Founder, Amb. Ummu Kalthum Muhammad Rabiu.
According to the Kalthum Foundation for Peace (KFP), the organization wishes to clear up any confusion and make it abundantly obvious that under Buratai, welfare and allowances for soldiers reached their highest levels and that every effort was made to prevent corruption by using banks as a conduit. The World Terrorism Index and other reputable international organizations recognized this victory, and former President Muhammadu Buhari, GCFR, did his best to ensure that the troops had the weapons and equipment they needed to checkmate the insurgents. Accordingly, Nigeria recorded this victory while General Buratai served as COAS.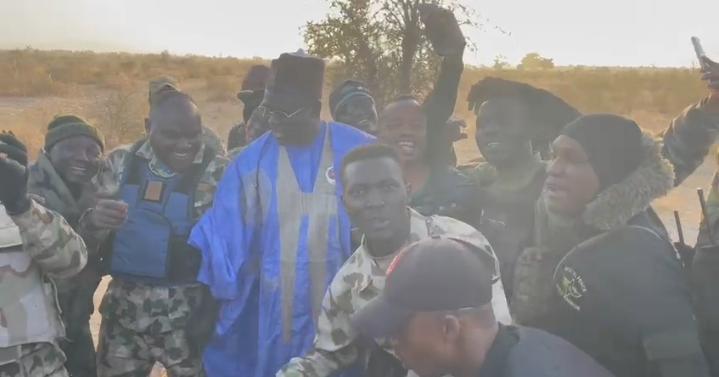 Buratai with soldiers recently
The foundation stated that such individuals lack any moral compass and urged the public to ignore toxic minds like Gololo and their vengeful statements. "Certainly, Mr. Gololo cannot travel to the North-East and speak to the media there as he did here in Abuja." In fact, Buratai is adored by his soldiers in both his roles as a general on the front lines of battle and in retirement. To express their gratitude and support for him, the troops forced him to stop the final time (in January 2023) he was going through Buniyadi in Yobe State. The troops in the North East enthusiastically greet Buratai in the viral video. Two years after stepping down as COAS, this demonstrates his enduring favor with the military.
General Buratai And The Imaginative Narratives Of Gololo