UN Resident Coordinator Asks Women in Rural Areas to be Given Phones
By: Michael Mike
The United Nations Resident Coordinator, Matthias Schmale has asked for the provision of mobile phones to women in the rural areas in order to draw them nearer to every sector of the society and economic liberation.
Speaking at an event: UN Women Showcase for Young Women and Men Using Technology to Promote Gender Equality & Women's Empowerment in Nigeria, Schmale who was represented by one of the senior staff within the UN system in the country, said the opportunities that come with providing women with digital access and literacy – as simple as a mobile phone are manifold, including economic empowerment through access to the digital economy and financial services; improved quality of life through facilitating access to services and information, including healthcare; and improved safety, particularly in areas where insecurity is a daily threat.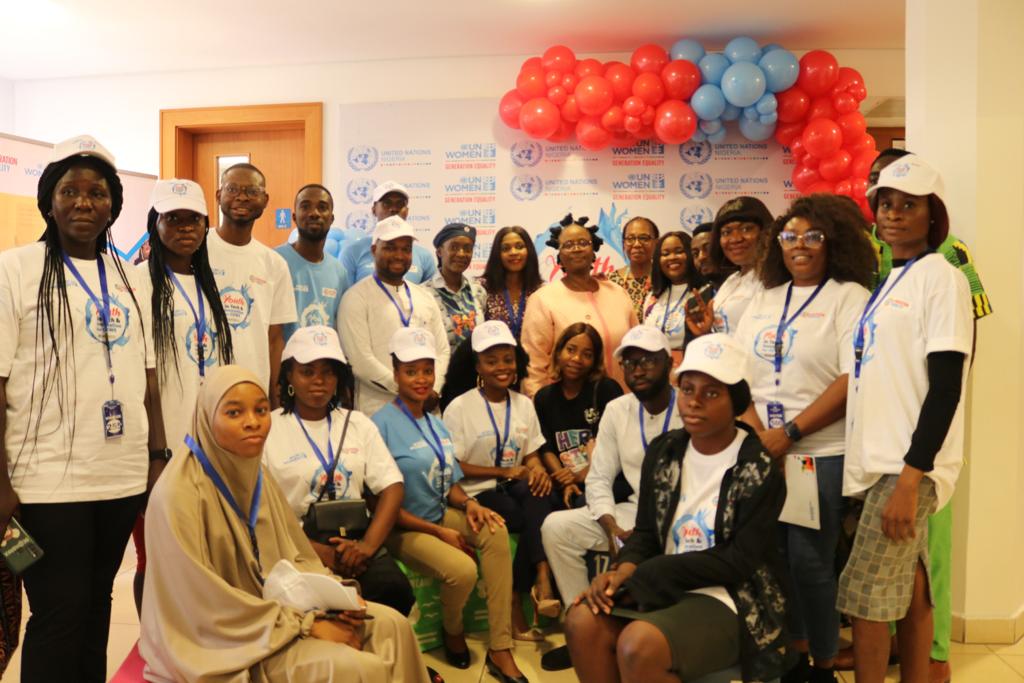 He said therefore digital literacy must be prioritized and promoted in primary and secondary schools in Nigeria.
He said: "We must promote women's leadership and participation in the fields of technology, engineering, and innovation. It is estimated that around the world, women make up less than one third of the workforce across the STEM sector.
"The potential of technology to create meaningful change in the lives of women and girls cannot be unlocked if women and girls themselves are not present and participating in those spaces where such tools are being designed and created.
He noted "that unfortunately the pervasive issue of violence against women and girls has found form in the online world. Whilst we are all aware of the ways in which digital technologies have been manipulated as tools to amplify harassment, hate, and abuse against individuals, women and girls are the number one target. We must therefore act to create a safe environment online, where women can exercise their rights to express themselves, organize, and participate in society by holding perpetrators and digital platforms to account."
He noted that digital gender gap comes with massive costs. According to a report from UN Women, the exclusion of women from the digital world has shaved $1 trillion from the GDP of low- and middle-income countries including Nigeria over the past decade. Therefore, closing the digital gender gap requires significant investment by the Government of Nigeria in both innovations and services.
He said Nigeria's development partners, including the UN, must also commit to closing the digital gender gap, through strategic interventions, such as the provision of mobile phones to women in rural areas, to enable their connectivity to various sectors of society.
The aim of the event was to give the young women and men platform to show case their initiatives and thereby increase their visibility; Award certificates of recognition to incentivize them to do more for GEWE and promote their work; Create a space and audience for exchange learning among the young people and their network and other relevant stakeholders invited (individuals working in the private and tech sector, government representatives, heads of UN agencies etc.) and strengthen UN Women partnership with the young women and men and explore collaboration and funding opportunities for advancing digital technology and innovative initiative on GEWE.
UN Women Representative to Nigeria and ECOWAS. Beatrice Eyong commenting on the statement event which is in continuation the International Women's Day with theme for 2023: "DigitALL: Innovation and technology for gender equality", said: "Today's presentations demonstrate, young women and men in Nigeria are leading the way in creating and providing digital and innovative solutions to a variety of issues across a number of sectors of society: gender-based violence, tailored education and training courses, health and medical issues, financial and banking services, access to markets, and environmentally conscious products and energy solutions."
UN Resident Coordinator Asks Women in Rural Areas to be Given Phones